Steve Greaves
Bird Paintings
Birds Of Prey / Garden Birds / Sea & Waterbirds / Macaws
A series of Photorealism bird paintings with various degrees of finish,
some more stylised than others. Sizes range from postcard size up to A1
(30"x20") and the mediums used are: Watercolour, Oils, Gouache, Inks
and Acrylics on a variety of supports such as: Gesso Primed MDF
Board, Watercolour Paper, Cartridge Paper, Corrugated Cardboard,
Line Board, Illustration Board, and Canvas Board.
Peregrine Falcon (Falco peregrinus)

Peregrine Falcon Painting
Photorealism Gouache Painting of a
female Peregrine Falcon used for Falconry.
Buzzard (Buteo buteo)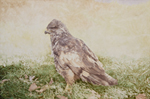 Common Buzzard Painting
Photorealism Oil Painting of a Welsh
Common Buzzard used for Falconry.
Goshawk (Accipiter gentilis)

Goshawk Painting
Photorealism Gouache Painting of a
Northern Goshawk used for Falconry.
Snowy Owl

Snowy Owl Painting
Watercolour Painting of a
Snowy Owl in London Zoo.
Blackbird (Turdus merula)

Blackbird Painting
Male Blackbird on a windowsill.
A Photorealism Gouache Bird Painting.
Chaffinch (Fringilla coelebs)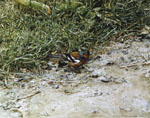 Chaffinch Painting
Photorealistic Gouache Painting of a Chaffinch
camouflaged against grass and wild plants in a car park.
Blackcap

Blackcap Painting
A small Gouache Painting of a female Blackcap.
Water Birds & Sea Birds Paintings
Ferruginous Duck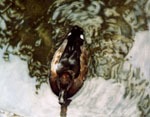 Ferruginous Duck Painting
Gouache Painting of a Ferruginous Duck
on water viewed from above.
Mallard Duck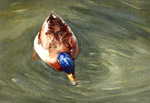 Mallard Duck / Drake Painting
A Watercolour Painting of Mallard.
Mallard Duck Study

Mallard Duck /Drake Painting
A small Acrylic Sketch Painting of
a Mallard Duck in Acrylic Paint.
Wood Duck

Wood Duck Painting
painted using Waterproof Drawing Inks.
Oystercatcher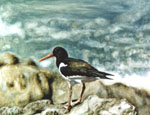 Oystercatcher Painting
Gouache Painting of an Oystercatcher
on the North Devon coast.
Herring Gull on Rocks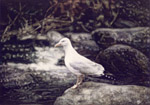 Herring Gull Painting
Seagull Painting in Gouache depicting
a Herring Gull at Lynmouth, Devon.
Rob & Macaw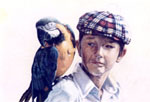 Macaw Painting
Oil Portrait / Bird Painting of my brother
Rob with a tame Blue and Gold Macaw.