Peregrine Falcon
Falco peregrinus
Bird of Prey Painting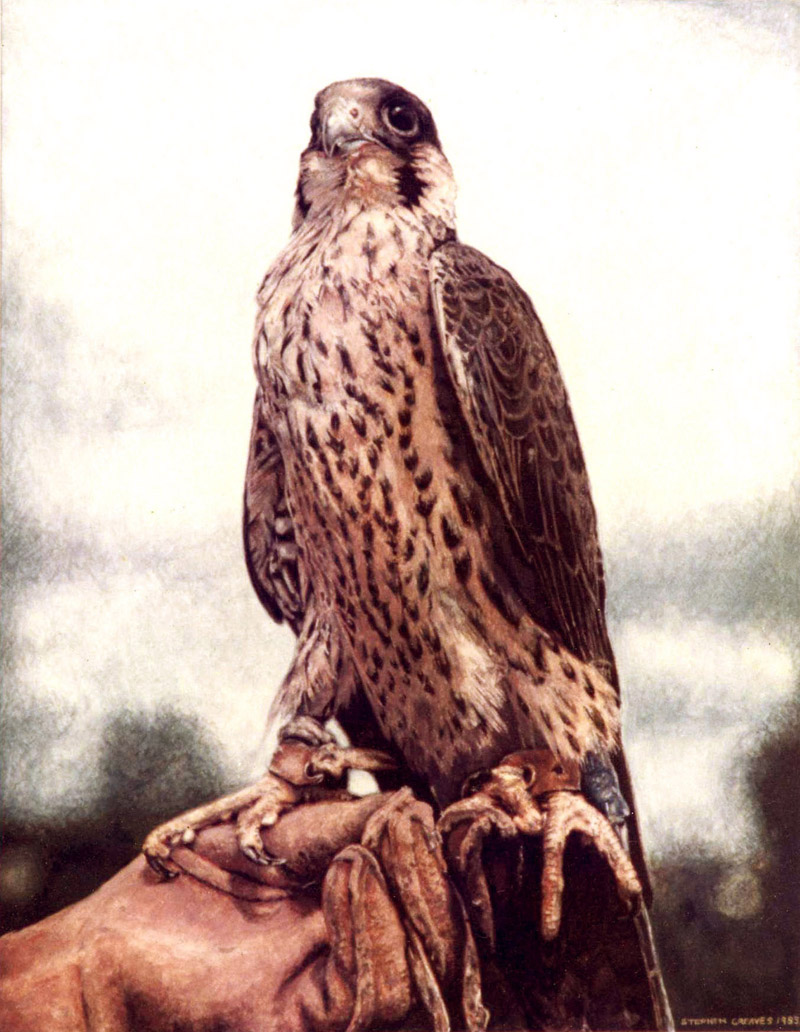 Photorealism Bird Painting - Gouache on Paper 1983
8 x 10 ins
private collection
This image of a female Peregrine Falcon was my first real
attempt at Photorealism Painting and was painted during
my final year on the Wildlife Illustration course at Dyfed
College of Art, Carmarthen, Wales and formed part of my
diploma show in 1983.
The art college principal requested that it was displayed in
his office and it went on to be exhibited in St. David's Hall
in Cardiff, Wales with the RSPB (Royal Society for the
Protection of Birds) before being sold by the Fountain Fine
Art gallery in Llandeilo, South Wales.
The Peregrine Falcon in this picture belonged to one of our
college lecturers, Dr Nick Fox, now Director of International
Wildlife Consultants (UK) Ltd. www.falcons.co.uk
(Check out his books shown below). He brought this Bird of
Prey into college one day for us to draw and photograph.
Note the injured right wing which hangs slightly lower than
the left one, and the blue radio transmitter.
Two of my favourite books as a school boy were A Kestrel
for a Knave by Barry Hines (dramatised in the film Kes by
Ken Loach) and In The Shadow Of The Falcon by Ewan
Clarkson.
Peregrine Falcon Fact:
The Peregrine Falcon is the fastest Bird of Prey, having
been clocked at 99 - 273 mph in a stoop (dive) after its prey.

Peregrine Falcon Limited Edition Print available - Click Here
A Signed Greetings Card is available of this painting Click Here