Garrick Theatre, London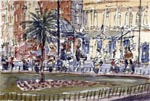 Watercolour & Ink Landscape / Townscape
Painting of the Garrick Theatre in London with
palm tree, ticket kiosk, motorbikes and figures.
Local Shop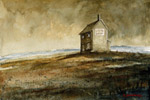 A spooky shop in the middle of nowhere. Moody
Watercolour Landscape Painting based on the
TV Comedy Series The League Of Gentlemen.
Ratcliff On Soar Power Station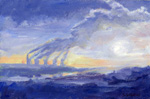 Ratcliff-On-Soar Power Station.
Impressionist Style Acrylic Painting.
Railway Shed, Carmarthen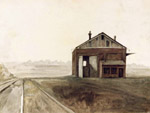 An old disused Railway Shed in Carmarthen,
South Wales. A Landscape Painting in Oils.
Trafalgar Square, London

Trafalgar Square in the centre of London in winter.
A Cityscape Painting in Ink and Watercolour.
Scottish Highlands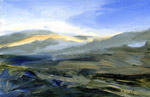 A Highland Landscape Scene in Scotland.
A small Impressionism / Expressionism Acrylic
Scottish Landscape Painting.
Sentinel Sheep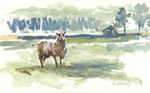 A Sheep at Yorkshire Sculpture Park, West
Bretton. A small Acrylic Landscape Painting.
Kinver Edge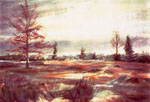 Heathland at Kinver Edge in autumnal colours.
A loose Watercolour Landscape Painting.
The Old Court Brewhouse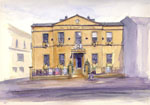 A Pub in Wakefield, West Yorkshire.
An Ink and Watercolour Townscape Painting.
Click here to buy Steve Greaves Original Paintings