During the mid 1980s I was involved
with Impact Magazine as a Graphic
Designer and Photographer.
The magazine was started by editor
Jon Ashwell and was based originally
in Carmarthen, South Wales and later
in Swansea and Cardiff.

Impact Magazine - Graphic Design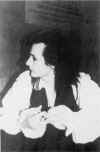 Punk Rock Band The Damned - Photos
I was involved in a few fashion shoots
and got to photograph a number of live
bands and musicians including The
Damned, Gary Numan, Nico (Velvet
Underground), Doctor & The Medics,
Darshan, Amazulu etc.
The Graphic Design & Layout was done the
hard way. Typesetting was done by a repro
company and we cut and pasted the whole lot
by hand often working all through the night to
meet printing deadlines. Impact Magazine
never owned a computer in the early years!
The Photos were sent out to be reproduced
as half-tones in black & white and they
too were pasted into the pages by hand.
Any mistakes were covered with Tippex.
The early copies had a rough and ready
fanzine type appeal and were prized by
collectors.
All the images shown here were scanned
directly from early copies of Impact Magazine
which were never very well printed - hence the
low quality.
Impact Magazine is no longer in publication.
To be added soon:
Gary Numan photos
Fashion Photography