Steve Greaves
Photorealism Toy Paintings

I am a keen toy collector and have taken many toy themed photographs
with a view to producing a series of Photorealism toy paintings.
Here are the first two....
---
David Beckham Key Chain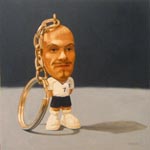 David Beckham Key Chain Toy.
Acrylic Photorealism "portrait" painting of David Beckham
the English footballer / soccer player in the form of a key
chain (key ring) painted much larger-than-life.
Read more about - David Beckham Key Chain - Painting
---
Rutt Moose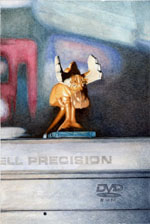 Rutt the Moose from Disney's Brother Bear.
A watercolour toy painting of a plastic moose given away free
in a pack of Nestle cereal promoting the animated film.
Read more about - Rutt Moose - Watercolour Toy Painting