David Beckham Keychain/Keyring
Painting by Steve Greaves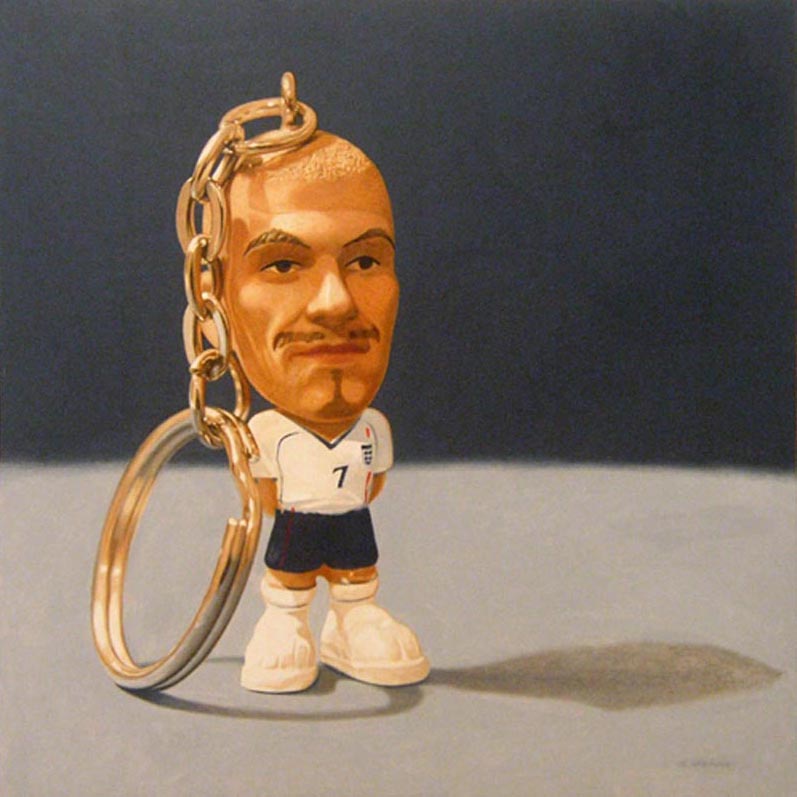 Acrylics on Board Photorealism Toy Painting 2007
24 x 24 ins
Frame - 3.5 inch Matt Grey Moulding
Original Painting For Sale
£1,000
Convert Prices to Your Currency Free Service by XE.com
David Beckham Key Chain / Key Ring Photorealism "Portrait"
Toy Painting is the first in a planned series of Toy Still Life
Paintings. The original Key Ring / Key Chain Memorabilia figure
of David Beckham stands a mere 2 inches (5 cm) high. The
Painting is produced several times larger than the Toy figure's
actual size.
In this image David Beckham wears the England Football /
Soccer Team Kit for the 2002 World Cup. Note his trademark
number 7 and his white football boots. The Key Ring / Key Chain
is an official English FA approved item.
David Beckham is now signed to play Soccer for the Italian Soccer
Team AC Milan.
Photorealism Portrait Painting Technique, Method:
The David Beckham Keyring / Key Chain Painting is inspired
by the Art of Famous American Photorealism Painters of Toys
such as Charles Bell and Linda Bacon. The Painting Technique
used for this Painting is a gradual building up of several layers of
semi-opaque Acrylic Paint using a size 3 synthetic / sable blend
brush. The support for the Painting is 5mm white Gesso Primed
MDF (medium density fibreboard). David Beckham ( who
at the time played for Manchester United), is married to Victoria
Beckham, aka Posh Spice, formerly of the English pop group The
Spice Girls.
See how the David Beckham Portrait Toy painting was done:
David Beckham Key Chain - Photorealism Painting Technique
A Signed Greetings Card is available of this Painting click here
Click here to buy Steve Greaves Original Paintings