Steve Greaves Graphic Design
For Psychic TV & Temple Press
Thee Temple ov Psychick Youth (TOPY)
Book Cover Graphic Designs
Psychic TV:
Industrial / modern Psychedelic Music ensemble
and purveyers of downright weirdness. Partly born out of
Independent industrial music experimentalists Throbbing Gristle.
Temple Press:
I submitted some artwork to Temple Press, the publishing arm of
Thee Temple Ov Psychic Youth (TOPY) and was invited by Words,
the editor / publisher to produce graphic designs for a number of book covers.
The books were published by Temple Press in 1991/1992 and are now out of
print and highly collectable.

Ratio:3 Media Shamans - Book Cover Graphic Design

Ratio:3 Trans:Mediators - Book Cover Graphic Design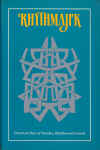 Rhythmajik by Z'EV - Book Cover Graphic Design
Psychic TV T-shirt design:
After seeing these book cover designs, Genesis P-Orridge
the Psychic TV front man, (also of Throbbing Gristle)
asked if I would design a T-shirt for their forthcoming tour
of the USA. I did the artwork but I am not aware of whether
it was ever used. I have no images of this design, which
featured a diagram of the atomic structure of the Ecstasy
drug and the slogan: "Fetish before Function".
Psychic TV have been mentioned in the Guinness
World Records book as the band who have released
the greatest number of albums in the shortest period
of time.
Temple Press website link: www.permuted.co.uk