Steve Greaves
Photorealism Painting
Techniques & Methods
Dock Leaf in the Grass - Painting Tutorial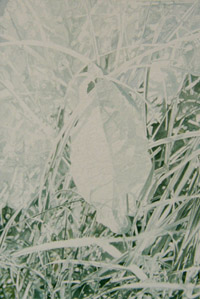 Dock Leaf in the Grass
Photorealism Botanical Painting in Progress
1. Dock Leaf Reference Photograph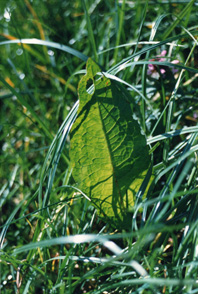 The Photo was taken with a Nikon F50
SLR film Camera with a 35-70 zoom lens.
It was taken outdoors with natural sunlight
creating backlighting and shadows.
No reflectors or fill-in flash were used.
The photo was printed 9 x 7 ins by a
professional lab. I scanned the print and
printed out an A2 size print using a photo
quality inkjet printer and matt photo paper.
2. Copying & Transferring the Image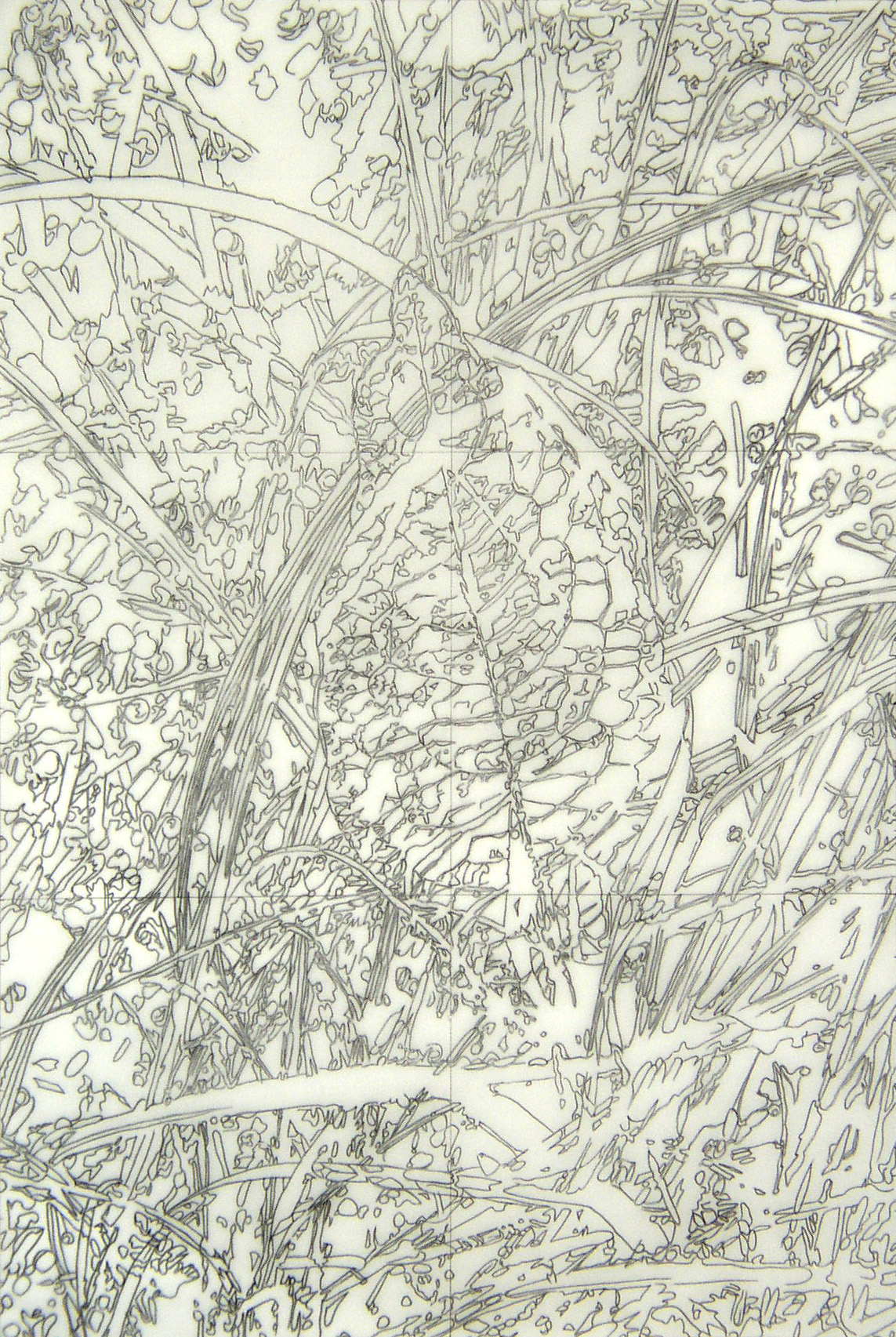 Dock Leaf - Photorealism Drawing
The Photorealism Drawing ready to be transferred
onto Watercolour Paper.
The image was copied onto A2 transparent
acetate with a fine pigment pen - then from
that onto A2 tracing paper using the same
pen. Then the image was redrawn on the
back of the tracing paper with a soft (2B) pencil.
Finally the image was traced through the
paper onto TH Saunders Waterford 200lb
Watercolour Paper using a hard (6H) pencil.
In this case, the paper was not stretched,
just taped to a board with masking tape as
the Technique used for this Photorealism
Painting is almost a dry-brush effect with no
heavy washes of Watercolour Paint.
Tracing is not an easy option. It can
take days of intense accurate drawing to
transfer a detailed image such as this.
Pigment pens are used on the acetate and
tracing papers but the image is always laid
down onto the support in pencil. A putty rubber
is used to remove any excess pencil marks.
4. Photorealism Painting Technique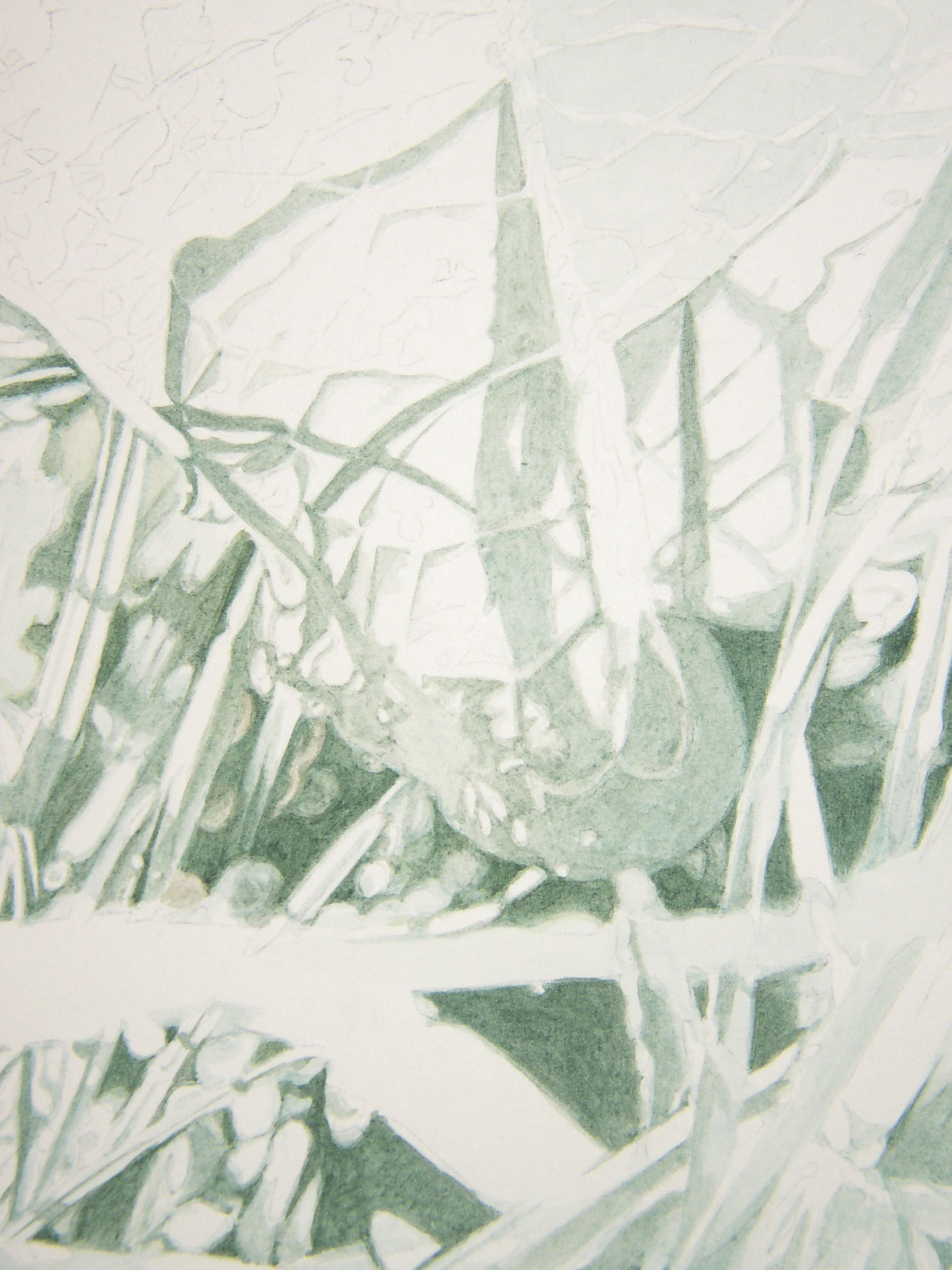 Dock Leaf - Photorealism Painting Technique
Detail from Photorealism Painting in Progress
The Dock Leaf Painting is being built up gradually
using several transparent layers of Artists' Quality
Watercolour Paint. Blue-greens are being used for
the first two or three washes of colour, Terre
Verte being the dominant base colour.
The main Paint Brush being used at this stage is a
Winsor & Newton Series 7 size 5 Sable brush.
Yellows, browns, blues and purples will
be added at a later stage.
Click here to buy Steve Greaves Original Paintings