German Short Haired Pointer Dog
"Buster" Watercolour Animal Painting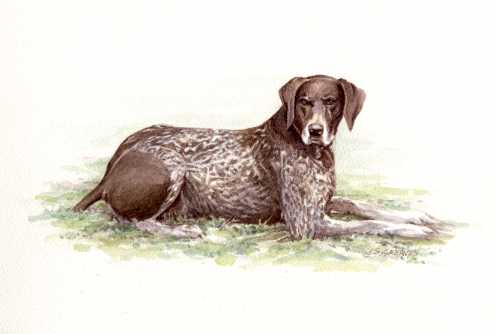 Animal Painting - Watercolour on Paper 2006
10 x 8 ins
private collection
A small Watercolour Painting of a German Short Haired
Pointer Dog. This was not an easy Painting to execute as
all the dog's markings are distinctly shaped yet very subtle.
The Pointer Dog itself is painted using a mix of three colours:
Burnt Umber, Ultramarine Blue and Alizarin Crimson. The grass
was painted with Terre Verte and Olive Green. The fine detail is
achieved with the use of a fine sable artists' quality series 40
brush by Daler-Rowney.
The paper is unstretched acid free Langton water-colour paper
A4 size 140lb / 300gsm also by Daler-Rowney.
A Signed Greetings Card is available of this Painting click here