Miniature Schnauzer Dog - "Jack"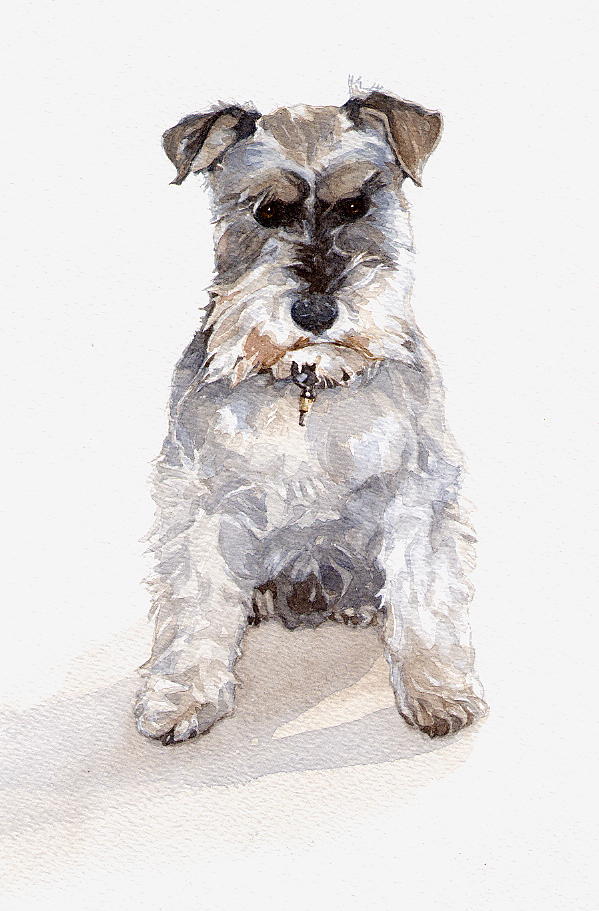 Watercolour on Paper 2004
8 x 9 ins
private collection
Jack the Schnauzer is available as a postcard on Amazon and Ebay
A Watercolour Animal Painting of a Miniature Schnauzer
Dog. The Schnauzer breed was first registered in Germany
and the name translates from the German word for moustache
which refers to the breed's distinctive facial hair.
Originally used as ratters, today they are used as companion
dogs. The ideal Miniature Schnauzer Dog is 35cm high and
weighs 8kg.
Watercolour Animal Painting Technique:
This is an Illustration style Artwork produced on un-
stretched Daler- Rowney Langton Watercolour Paper.
This paper has a Not (slightly textured) surface and is capable
of holding fine detail.
The Miniature Schnauzer Dog was painted mostly with
Paynes'' Grey and a little Burnt Umber using a high quality
Sable Watercolour Paint Brush.
The background is left simple and uncluttered, the white is the
bare paper - no white paint was used in this Animal Painting.