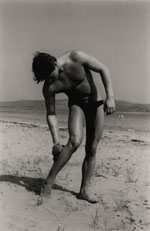 I am named after Steve Reeves, the legendary 1950's
American Bodybuilder and Hercules Film Actor
(My dad was a great fan!) so it was inevitable that I would
take up Bodybuilding Weight Training
I was always physically active as a kid, being into running,
cycling, gymnastics, tree climbing etc. and started Bodybuilding
Weight Training at around age 16 to try and Build Muscle and
Strength.
My aim has always been to build a well proportioned Classical
Physique in the Steve Reeves, Frank Zane, Bob Paris
mould. This means developing arms, calves and neck with equal
measurements, having broad shoulders and a narrow waist giving
an impressive V-shape. At the time of writing my chest is 49"
and my waist is 26" - that's a 23 inch difference which equals
Steve Reeves at his best. I hope to increase that to a 2 feet
difference over the next few months. My arms, calves and neck
are all around the 17 inch mark and at a height of 5 feet 9.5 inches
I currently weigh 200lbs.
Bodybuilding Competition Photos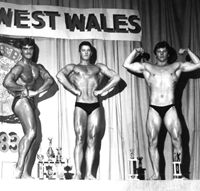 Steve Greaves (centre)
3rd place NABBA Mr West Wales under 21's 1983.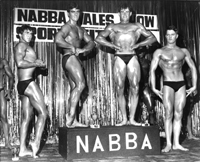 Steve Greaves (far right)
4th place NABBA Mr Wales under 21's 1983.
Backstage at a NABBA Bodybuilding Competition 1984.
Gym / Training / Physique Photos
Steve Greaves at Les's Gym in Carmarthen, South Wales 1984.
The Gym was owned by Les Randall who was NABBA Mr Wales in the 1950's.
Much of the Exercise Equipment in the Gym was hand-built by Les himself.
Physique Photos by Nigel Wood.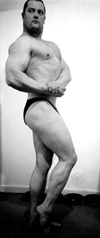 Steve Greaves 2004
Showing a side chest pose after 4 years training at home
following a long layoff. I sometimes train at Damon Brown's
Temple Gym in Wombwell, near Barnsley, South Yorkshire,
England, UK.
My Bodybuilding Weight Training Routine
I train each body-part once a week on a three day split
Here is my current Bodybuilding Weight Training Routine -
Mon - Chest and Shoulders
Tue - Back
Wed - Rest
Thu - Arms
Fri - Thighs
Calves and Abs are trained at the weekend.
More info to be added...
Steve Reeves - 1950's Natural Bodybuilder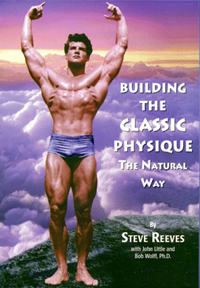 I am named after Steve Reeves, the legendary 1950's
American Bodybuilder and Hercules Film Actor
(My dad was a great fan!) so it was inevitable that I would
take up Bodybuilding Weight Training