Bornean Orangutan
Pongo pygmaeus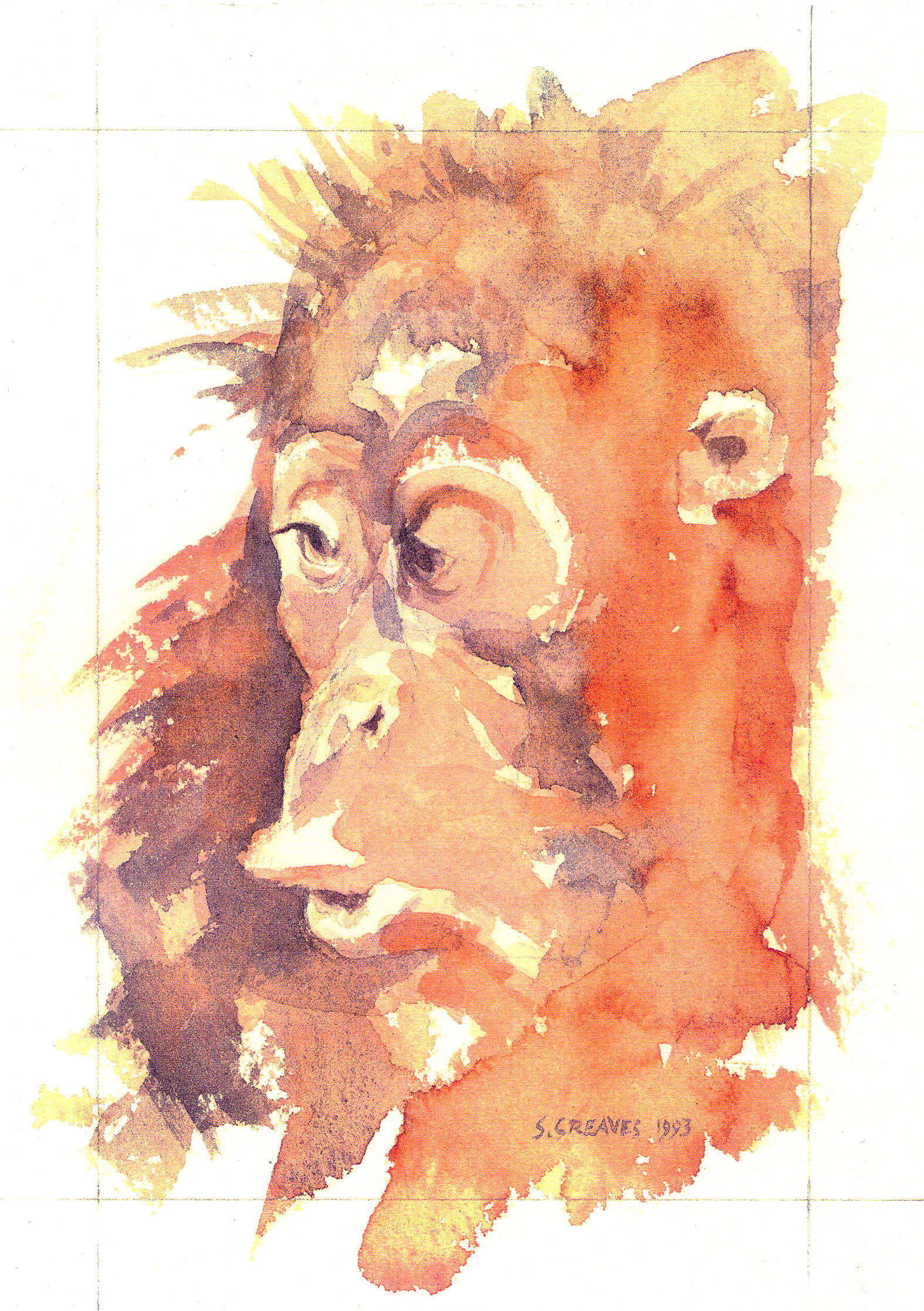 Watercolour on Paper 1993
5 x 7 ins
private collection
Orangutan is available as a postcard and greetings card
on Amazon and Ebay and should soon also be produced
as a limited edition print.
A very loose and Impressionistic Watercolour Animal
Portrait Painting of a young Bornean Orangutan.
Watercolour Animal Portrait Painting Technique:
The Orangutan is painted using only two colours - Payne's
Grey and Burnt Sienna, The first layer was painted very
rapidly floating Watercolour Washes together using a
Wet-Into-Wet Technique. When it was dry, a few details
were picked out using a fine Sable Brush.
This Orangutan Portrait Painting is one of my favourite
Watercolor Animal Paintings. It was the first of several
similar attempts to paint this Baby Ape. The rest ended up
in the bin - sometimes its better to quit while you are ahead!
Orangutan Facts:
Orangutan translates as "forest person" and this Primate is
the 2nd largest Ape - mature adults can weigh over 300lbs.
---
I was approached by the charity Borneo Orangutan Survival (BOS
UK) with a request to donate some Prints of my Orangutan Watercolour
Painting to be auctioned at Otterburn Hall, Newcastle, and another venue
in London at the end of November 2007.
I donated a number of Signed Prints of the Orangutan Watercolour
along with some Signed Greetings Cards and also Button Badges.
You can check out the Borneo Orangutan Survival (BOS UK) website at:
http://www.savetheorangutan.org.uk
---
A Signed Greetings Card of this Painting is available click here