Doncaster Market 2
Ink & Watercolour Street Painting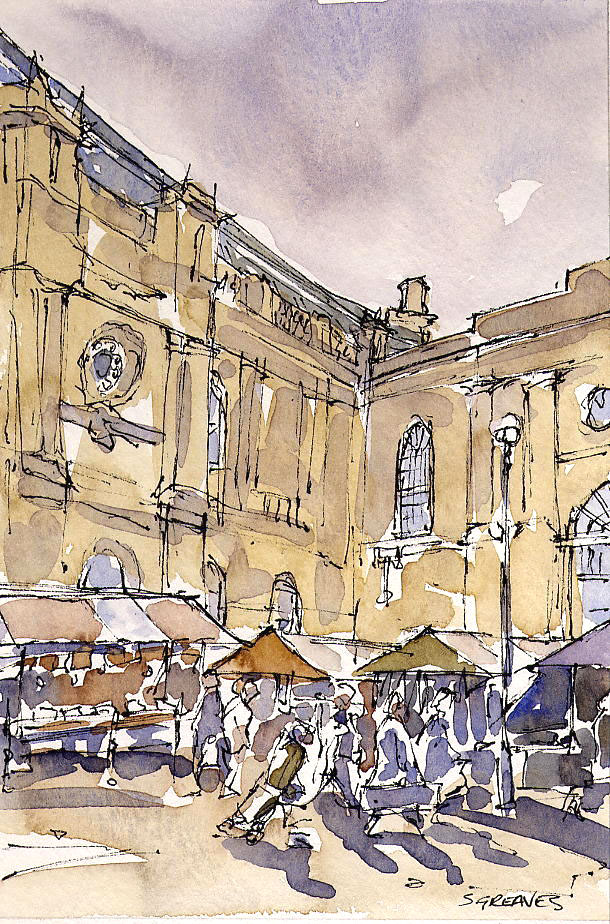 Ink & Watercolour on Paper
4 x 6 ins 2001
Frame: unframed
Mount: unmounted
Original Painting For Sale
£250
An Ink and Watercolour Landscape/Townscape Painting
of the Market building with outdoor stalls in Doncaster town
centre.
Watercolour & Ink Drawing & Painting Technique:
The Drawing was done with a fine black pigment pen
then loose Watercolour Washes of were floated on top
with a Sable Paint Brush to give a light and airy feel.
Figures and details are rendered sparsely to indicate
movement and the flickering light of an autumnal day.
The sky and shadow colours are Ultramarine Blue with
a hint of Alizarin Crimson, and the buildings are Raw
Sienna with Ultramarine mixed in for the darker tones.
A Signed Greetings Card is available of this Painting click here