Moorland, Ryedale
Watercolour Landscape Painting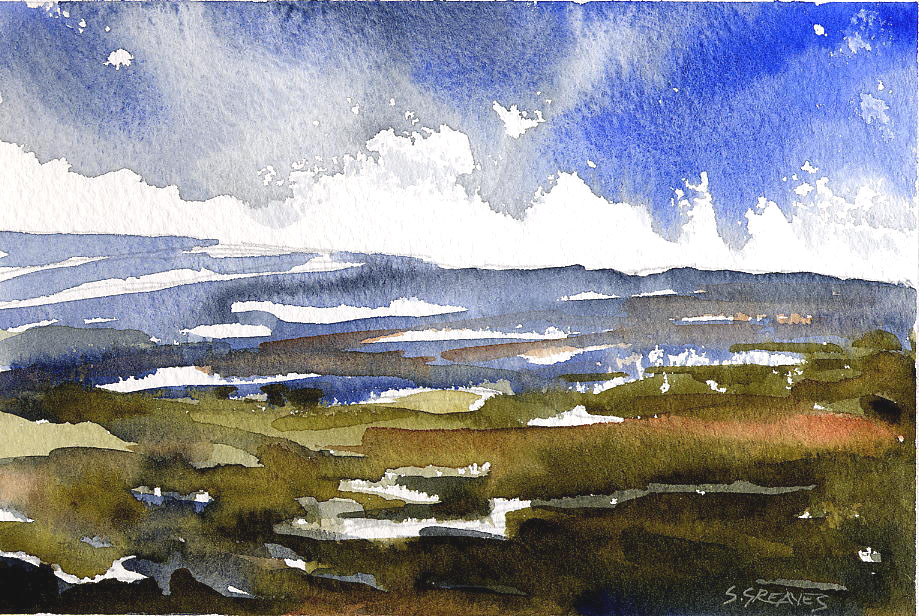 Watercolour on Paper 2000
6 x 4 ins
Frame: unframed
Mount: unmounted
Original Painting For Sale
£250
A Watercolour Landscape Painting of the Moors at
Ryedale between Pickering and Whitby in North Yorkshire.
Watercolour Landscape Painting Technique:
This is one of a series of similarly composed Landscape
Paintings given different painterly treatments. This
painting has quite a light touch leaving much of the
Watercolour Paper showing through.
I am pleased with the Wet-into-Wet Watercolour effect
in the sky which was achieved by running Watercolour
Washes together with varying amounts of water. Mostly,
my attempts at this effect end in failure, but once in a
while it comes together and doesn't end up in the bin.
As always, Artists' Quality Watercolor Paints are used
with Ultramarine Blue and a hint of Paynes' Grey for the sky
and distant hills. The foreground is Olive Green with a touch
of Burnt Sienna for warmth.
A Signed Greetings Card is available of this Painting click here