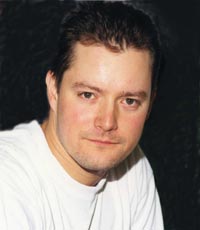 Steve Greaves
Photorealism Paintings
Paintings / Photography / Graphic Design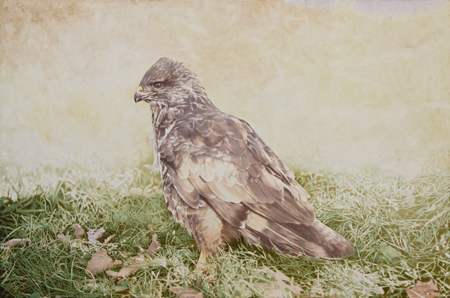 This website illustrates and describes over 100 pieces of artwork
by British artist / painter Steve Greaves produced over the past
30 years. It contains around 350 pages of art images and information
with new items being added regularly.
Paintings by Steve Greaves
A Celebration of the Ordinary
The paintings fall into 2 main categories:
1. Photorealism Paintings - detailed paintings, some more highly
finished than others. These are Birds, Wildlife, Portraits, Sports
and Toy paintings.
2. Impressionism / Expressionism Paintings - loosely painted
pictures. Mainly Landscapes but also includes some Wildlife
and Portrait paintings.
Photorealism Paintings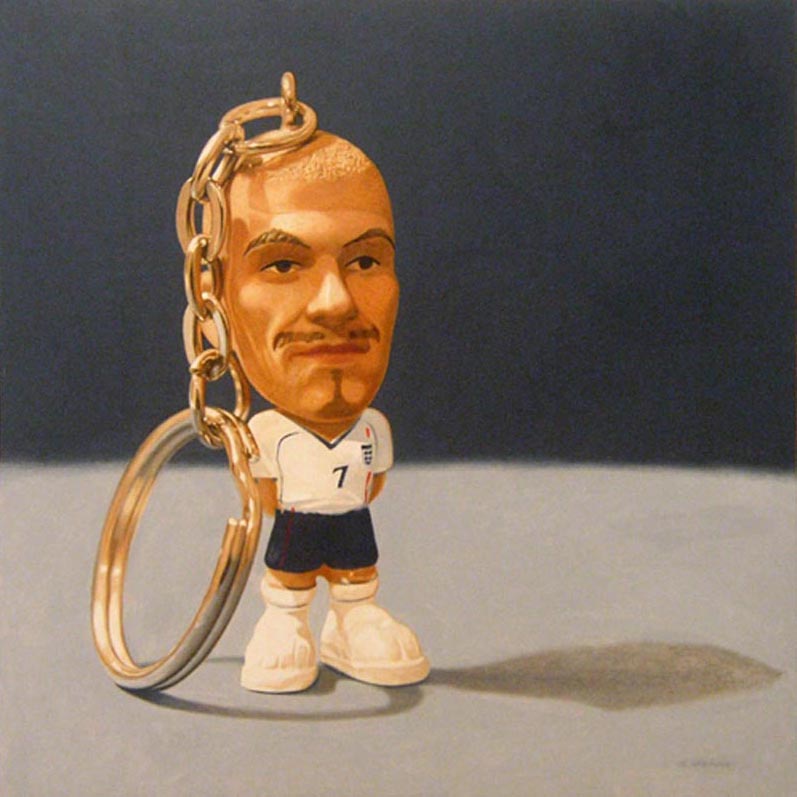 David Beckham Key Ring - Toy Paintings
Most of my artwork is based on photographic reference,
usually my own but sometimes taken from the mass media
or supplied by people who commission paintings or drawings.
Influences on my Photorealism Paintings include the well
known American Photorealists such as Chuck Close, Ralph
Goings, Richard Estes and Randy Ford.
Popular American Realist painter Andrew Wyeth and New
Zealand bird painter Raymond Harris Ching have also greatly
influenced my work.
The Photorealism Painting Techniques section covers all aspects
of the production of the artwork from taking reference photos
and transferring the drawings onto board or paper, to the actual
painting process and the framing of the finished artworks.
For a full list of my paintings see the Chronology page.
Impressionism / Expressionism Paintings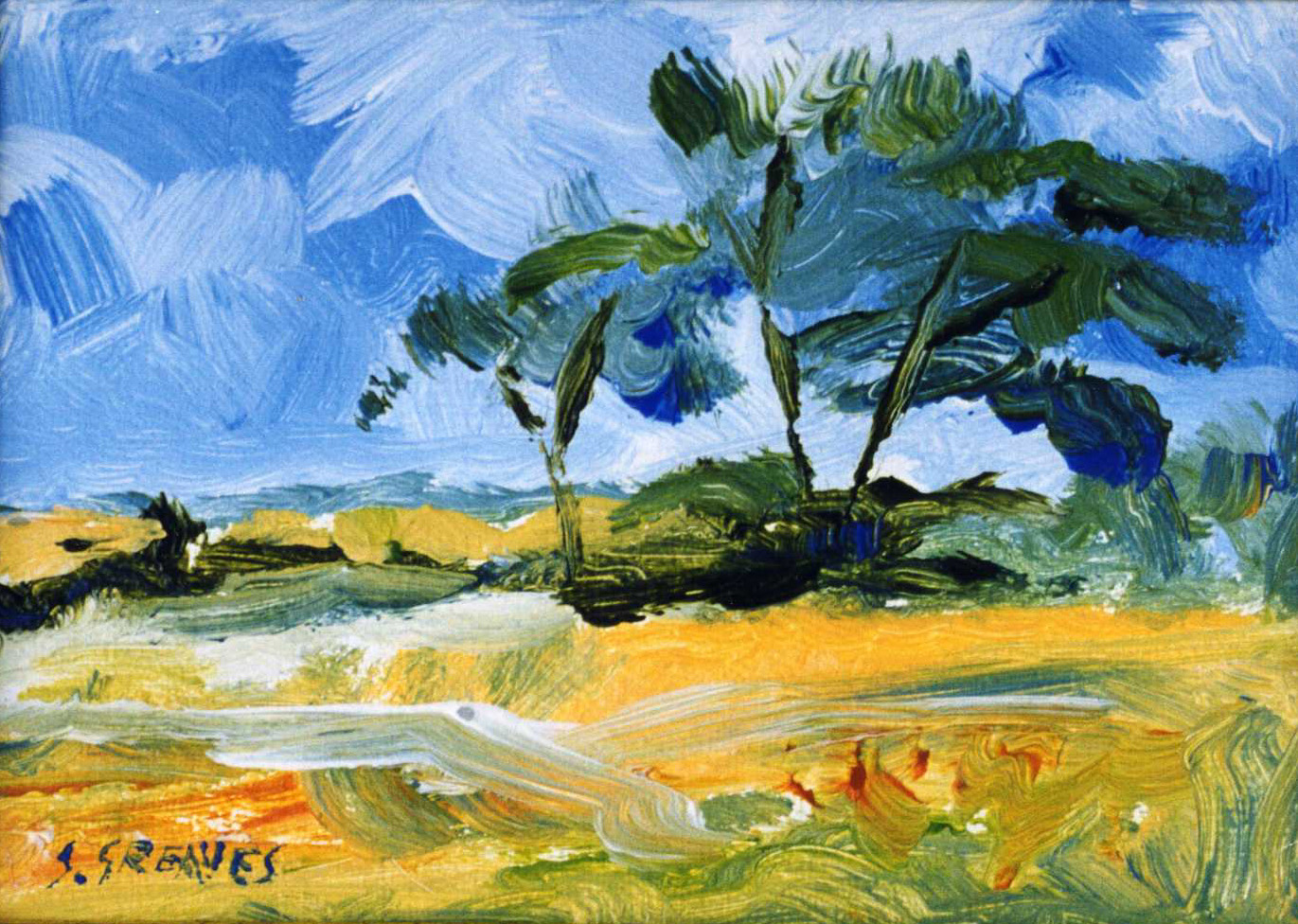 Wentworth Corn Field - Landscape Paintings
A series of mainly Landscapes and Townscape Paintings painted in looser
styles associated more with Impressionism and Expressionism than with
Photorealism. Any underlying drawing is gestural and the paint is applied
spontaneously with a sense of freedom and experimentation.
See also Wildlife Paintings section.
Photography by Steve Greaves

I started uploading my best photos to Flickr in June 2008 and I
continue to add new photos as well as images from my archives regularly.
My Flickr Photostream now contains nearly 1,500 images of subjects such as
wildlife and natural history subjects, architecture, people and toys.
Many of my photos have been published in books and leaflets and as posters
and prints, and used in museum displays.

Robin in the snow - photo by Steve Greaves
27 of my photos are now available to license exclusively through Getty Images.
They are mainly natural history subjects such as birds, animals and bonsai trees.
All of my photos are available for Request to License via Getty Images .
Here's a link to my photo set which is part of the Getty Images Flickr Collection:
Steve Greaves Getty Images on Flickr

Steve Greaves Bonsai Tree Print at AllPosters.com
I plan to add a new section about my Photography Techniques and equipment
to this website sometime in the near future...
Graphic Design by Steve Greaves


Graphic Design examples of book covers, leaflets, brochures,
magazine designs etc. can be seen in the Collaborations section.
Including artwork produced for Temple Press, Impact Magazine,
Brinsworth Comprehensive School Science College, and also
contemporary artists such as John Cuttriss. Many of the designs
incorporate photos by Steve Greaves.
Art for Sale - Original Paintings / Prints / Cards
You can buy several items here on this website direct from the Artist:
Original Paintings Limited Edition Prints Signed Greetings Cards
Steve Greaves Art and Photography can also be seen on the following websites:

- Steve Greaves Flickr Photostream

Getty Images (Photos) - Steve Greaves at Getty Images
Charles Saatchi Gallery (Paintings) - Steve Greaves at SaatchiOnline
Galleryonthe.net Gallery (Paintings) - Steve Greaves at Galleryonthe.net
Temple Press (Graphic Design) - Temple Press / Everything is Permuted
Steve Greaves | Create your badge

Facebook (General Info & Images) - Steve Greaves on Facebook

AllPosters (Photos) - Steve Greaves at AllPosters
amazon
Goshawk, Peregrine Falcon & Blackbird
Limited Edition Prints (500 only)
Landscape Painting Prints also Now Available!
Join the Steve Greaves Mailing List
Get Free Stuff!
Steve Greaves Photorealism Paintings Mailing List.
Join now by sending your contact details by email or post.
Don't forget to include your postal address if you wish to
be sent Free Promotional Items such as Posters, Cards
and Exhibition Invitations from time to time.
(You can of course un-subscribe at any time).
Join the Steve Greaves Mailing List - Steve Greaves Mailing List.
Email: steve@stevegreaves.com
Tel: (01226) 270764
Mob: 07877806703
Help!
If you are a Gallery Owner, Art Dealer or Publisher, who would
like to represent Steve Greaves please get in touch: Contact
---
Click here to buy Steve Greaves Original Paintings
Please bookmark this art website on your favourites List.
Get in touch if you would like to Exchange Art Website Links:
Thank You!